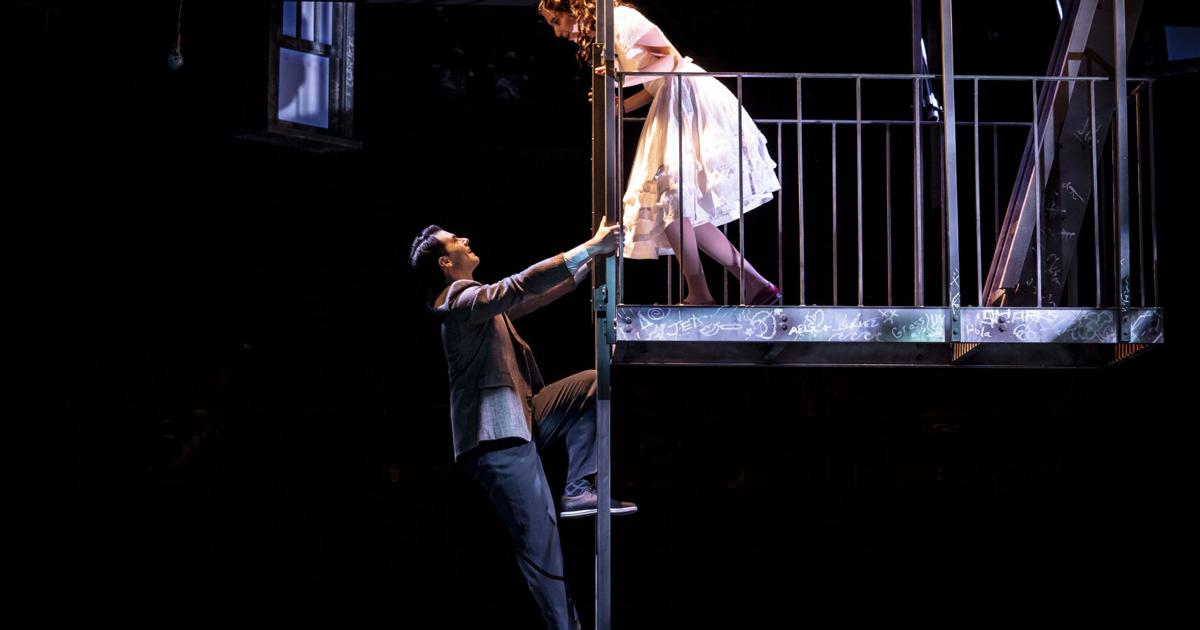 'West Side Story' at Marriott is a mixed bag | Theater
One of the best productions of "West Side Story" I've ever seen (and I've seen many) was at the Marriott Theater decades ago. An "ah-ha" experience, it made me realize why the groundbreaking 1957 musical conceived by Jerome Robbins and written by Arthur Laurents (book), Leonard Bernstein (music) and Stephen Sondheim (lyrics) didn't have a 'equal.
So I had high hopes for the final "West Side Story" at the Marriott, especially since the four lead actors and director Victor Malana MAOG are making their theatrical debut.
Despite being a big crowd pleaser on opening night, the show is by no means truly remarkable. If you're familiar with the 1961 film adaptation, this stage version is very similar to it and the Broadway original, with a few minor tweaks here and there. I haven't seen the 2021 film written by Tony Kushner and directed by Steven Spielberg, but judging from the promotional clips, its style – if not the content – ​​is quite different.
Marriott highlights include the small orchestra led by bandleader/keyboardist Patti Garwood, and most signature songs – "America", "Tonight", "Maria", "Somewhere", "Gee, Officer Krupke" and so on – sound pretty good. Choreographer Alex Sanchez riffs on Robbins' original routines for the many dance numbers and makes them work on Marriott's small stage. In a few cases, like the lyrical ballet "Somewhere", the space seems a bit cluttered, but that's a small problem.
Set designer Jeffrey D. Kmiec tackles physical challenges by combining vertically sliding panels of chain-link fence and metal fire escapes with hanging boxes shaped like small windows from surrounding buildings. The "under the highway" rumble is left to our imaginations, but Doc's shop rolls on and off. Lighting by Jesse Klug, props by Sally Zack, and sound design by Michael Daly fill in the gaps. Amanda Vander Byl's costumes capture the period, but more could have been done to differentiate the Jets from the Sharks. In the dance at the gym, I couldn't tell where I was sitting in row H from, a problem that persisted even in the fight scenes.
This version of Shakespeare's "Romeo and Juliet" revolves around Maria, who has been brought from San Juan to New York by her brother Bernardo to marry Chino and is entrusted to Anita, Bernardo's girlfriend, who also runs a marriage. But at her first dance, Maria falls in love with Tony, not realizing he is – or was – a member of the Jets, the Polish gang vying for control of the Upper West Side neighborhood with the Puerto Rican Sharks led by Bernardo. .
Newcomer Lauren Maria Medina makes a charming young Maria, with a winning mix of innocence and willpower, but her often shrill singing voice is all over the place. Her duets with Tony don't fly like they should, and she overdoes "I Feel Pretty" with too much aggression. Surprisingly, she is at her vocal best in the moving duet "A Boy Life That" / "I Have a Love" with Anita.
Jake David Smith's Tony is a more cohesive vocalist, but his tenor isn't quite up to the considerable demands of "Something's Coming" and his other solos. Additionally, his character comes across as unrealistic as he is optimistic as he contemplates a country life with Maria right after killing his brother.
Gary Cooper is simply miscast as Bernardo. He doesn't have the machismo for a gang leader, and most of the time he forgets to speak with an accent. Vanessa Aurora Sierra is the strongest of the four as Anita, although she reminds me too much of Rita Moreno in the 1961 film, but not as well.
As is often the case at Marriott, the big ensemble is a long suit. Special props go to Drew Redington as the Jets Riff frontman, Marisa Fee as Anybodys, and Jonathan Warner as Action, whose palpable anger helps give the play its contemporary relevance. Mainstays Matt DeCaro as "Doc", Bret Tuomi as Officer Krupke, and Lance Baker as Lt. Schrank, an all-time hateful racist, are also doing well.
All in all, Marriott's "West Side Story" may not be a revelation or a "must see," but it's a decent, traditional take on a classic musical.