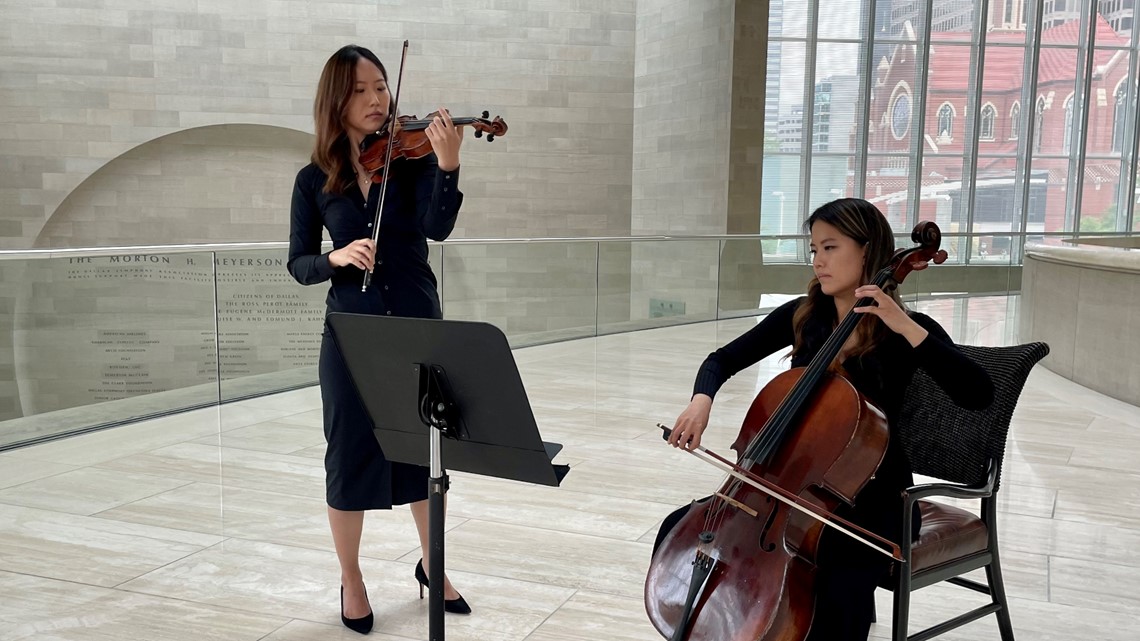 The sisters gather for a live concert by the Dallas Symphony Orchestra
[ad_1]
Julia and Jennifer Choi live more than a thousand kilometers from each other, but a joint concert in Dallas will allow them to share a spotlight on the same stage.
DALLAS – COVID-19 has been particularly cruel to the arts, but fate is exceptionally good to Julia and Jennifer Choi.
"I think the happiest people are probably my parents," Jennifer said.
As she laughed, so did her sister.
And they sounded almost identical.
Julia and Jennifer are not twins – Julia is two years older – but their lives have taken almost identical paths.
They both started playing stringed instruments when they were 4 years old.
They graduated from high school a year earlier and both earned bachelor's and master's degrees from Julliard School in New York City.
The two landed dream jobs in professional symphony orchestras in 2019.
Then COVID robbed them of their joy in 2020.
The seasons have been canceled and the theaters have fallen silent.
"There was a part of me that wondered if it would ever get back to normal," Jennifer said.
Jennifer is a cellist with the Dallas Symphony Orchestra. Julia is a violinist with the Metropolitan Opera Orchestra in New York.
The DSO was the first major American orchestra to perform socially-distanced concerts in front of a live audience, so Jennifer was able to return to the stage.
But the MET Orchestra has not performed in front of a live audience since early 2020.
"There have been things we do on the internet, like home galas and compilation videos of people playing together in little squares," Julia said, "but it is nothing like the electricity you feel in front of an audience. "
It also resulted in serious financial hardship after "not being able to have a paycheck for over a year now," Julia said.
"I had to break the lease on my New York apartment, and I know a lot of my colleagues had to do the same. And many of them have children and families to support.
This will be the first live performance in over a year for many New York-based artists.
It will also be the first time that Julia and Jennifer have performed together in a professional symphony orchestra.
"I think it's the craziest but happiest coincidence that we've ended up here together for this gig," Jennifer said.
"It's like the stars have aligned. You can't be much more perfect, "said Julia. "It's so fortuitous."
Both sisters said they had to put their instruments away for part of 2020 because they felt little joy in playing.
But the joy begins to return.
"It's just a privilege to be able to play music," said Julia, "and being able to make music with my sister is really special."
[ad_2]