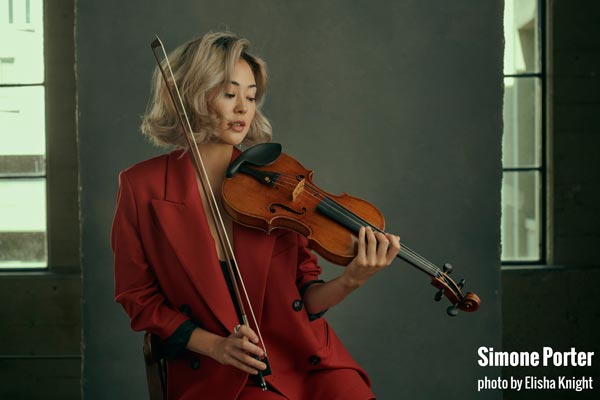 The return of the Princeton Symphony Orchestra to indoor concerts with works by Mendelssohn and Beethoven
[ad_1]
NEW | CHARACTERISTICS | OVERVIEW | EVENTS
originally published: 09/15/2021
(PRINCETON, NJ) – Sunday October 3 at 4:00 p.m., Princeton Symphony Orchestra (OSP) returns to indoor performances with its Mendelssohn & Beethoven concert with violinist Simone porter. Ms. Porter performs Felix Mendelssohn's beloved Violin Concerto in E minor in a program with a contemporary composer Jessie montgomery's Banner and Ludwig van Beethoven's Symphony No.4 in B flat major. Music Director Edward T. Cone Rossen Milanov conducts the concert at the Matthews Theater at the McCarter Theater Center.
"I am delighted to be conducting in the concert hall again," says Maestro Milanov. "I look forward to seeing many familiar and new faces come together in a musical reunion, affirming the value of live music."
Violinist Simone Porter is an emerging artist with a passionate energy, interpretive integrity and dynamic communication. In recent years, she has made her debut with the New York Philharmonic, the Philadelphia Orchestra, the Los Angeles Philharmonic and with several renowned conductors, including Stéphane Denève, Gustavo Dudamel, Yannick Nézet-Séguin, Nicholas McGegan, Ludovic Morlot and Donald Runnicles. In July 2021, she resumed a full season of orchestral and recital concerts to include Denver, North Carolina, St. Louis, Grand Rapids, Quebec, Sarasota, Bakersfield and Monterey Symphonies in addition to the Princeton Symphony Orchestra. She made her professional solo debut at the age of 10 with the Seattle Symphony and her international debut with the Royal Philharmonic Orchestra in London at the age of 13. In March 2015, Simone was named the recipient of an Avery Fisher Career Fellowship. She studied with Margaret Pressley and the famous educator Robert Lipsett.
Composer Jessie Montgomery, recipient of both the Sphinx Medal of Excellence and the Leonard Bernstein Award from the ASCAP Foundation, is currently Composer-in-Residence Mead with the Chicago Symphony Orchestra. His work Banner was written in 2014 as a tribute to the 200th anniversary of "The Star Spangled Banner". Mendelssohn's violin concerto was composed between 1838 and 1845, and is celebrated as one of the great 19e-century concertos for violin. Written between his "Heroic" and the famous Fifth Symphony, Beethoven's expressive Fourth Symphony has been described by fellow composer Robert Schumann as "a Greek girl surrounded by two Nordic giants".
Tickets for the Matthews Theater concert at the McCarter Theater Center range from $ 25 to $ 90 for adults and half price for ages 7 to 17, and can be ordered through the Princeton Symphony Orchestra website. at the address princetonsymphony.org or by calling the McCarter box office at 609-258-2787.
Advertise with New Jersey Stage for $ 50 to $ 100 per month, click here for more information
---
Health and security – The Princeton Symphony Orchestra is closely monitoring and adhering to the COVID-19 requirements of the New Jersey Department of Health. Concert attendees will receive information regarding security procedures, entry, seating orientation, etc. before the selected show (s).
Accessibility – The Princeton Symphony Orchestra is committed to ensuring that all programming is accessible to everyone, working with venues to provide necessary services. Contact ADA coordinator Kitanya Khateri with any questions about the services available at kkhateri@princetonsymphony.org or 609 497-0020. Note: Some services require at least two weeks notice to be arranged.
The Princeton Symphony Orchestra (OSP) is a cultural centerpiece of the Princeton community and one of New Jersey's premier musical organizations, a position established through performances by beloved masterpieces, innovative music from living composers, and a vast network of educational programs offered free of charge to students in the region. Led by Edward T. Cone Music Director Rossen Milanov, the PSO presents orchestral, pop music and chamber music programs of the highest artistic quality, supported by conferences and related events that complement the concert experience. Its flagship summer program, the Princeton Festival, brings an array of performing arts and artists together in Princeton for several weeks in June. Through PSO BRAVO !, the orchestra produces large-scale and impactful educational programs in partnership with local schools and arts organizations that result in students attending a live orchestral performance. The PSO receives tremendous support from the Princeton community and the New Jersey State Council on the Arts, consistently winning the NJSCA's highest honor. Recognition for the engaging residencies and concerts came from the National Endowment for the Arts, and the PSO's commitment to new music was recognized with an ASCAP Award for Adventurous Programming and a Copland Fund Award. The only professional independent orchestra to make its home in Princeton, the PSO performs in the historic Richardson Auditorium on the Princeton University campus.
Advertise with New Jersey Stage for $ 50 to $ 100 per month, click here for more information
---
[ad_2]