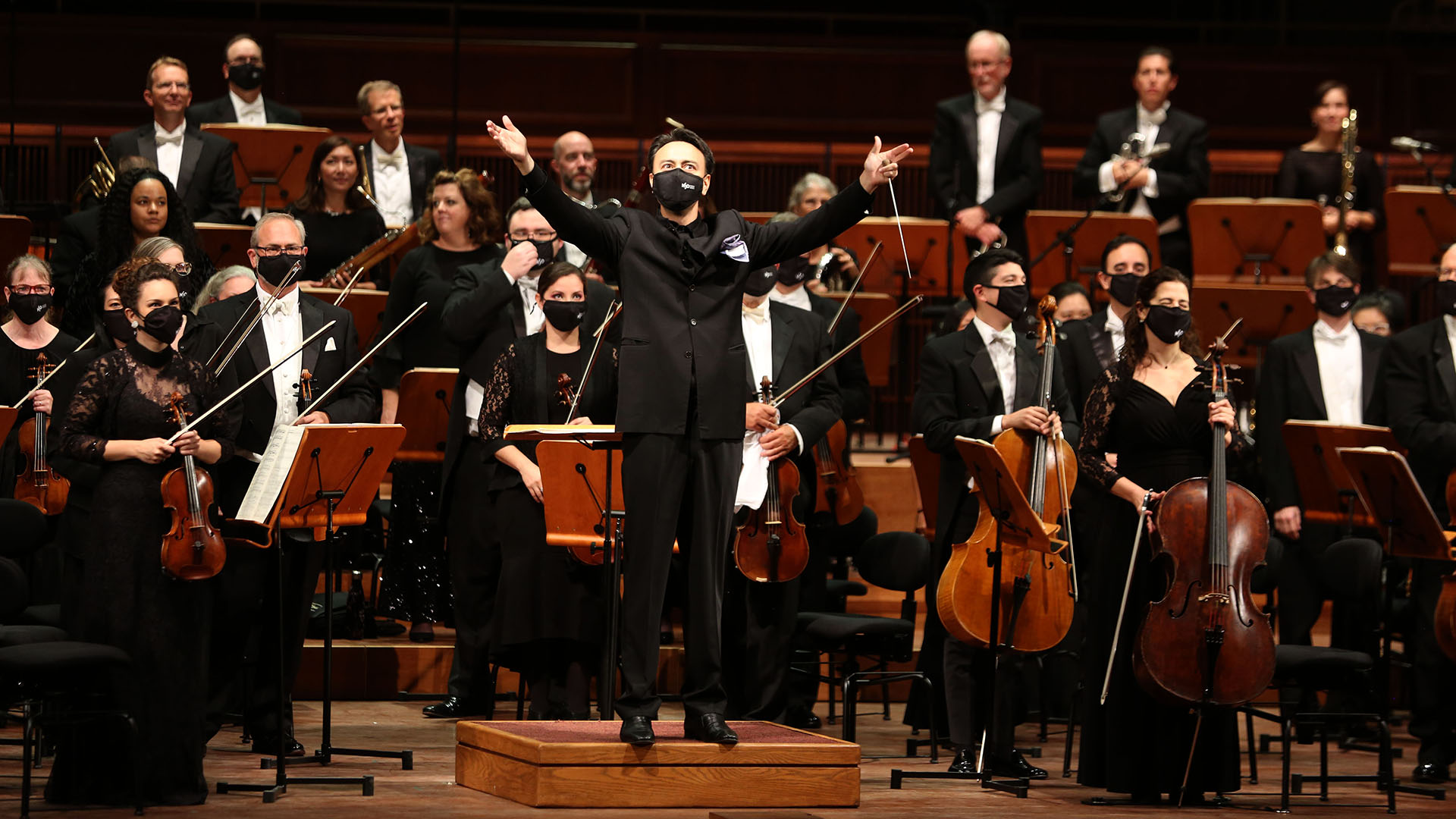 The Milwaukee Symphony Orchestra airs on December 17th – read the Q&A now!
December 1, 2021 Alyssa beno
PBS Wisconsin celebrates the long-awaited return of performing arts and the debut of a world-class symphony hall in Milwaukee with Live from the Bradley Symphony Center: Milwaukee Symphony Orchestra.
The program, a production of Milwaukee PBS, features the orchestra's first performance in 2021-22 in the new Bradley Symphony Center. It premieres at 3 p.m. on Sunday, December 19 on PBS Wisconsin..
The concert, led by Milwaukee Symphony Orchestra (MSO) Music Director Ken-David Masur, honors both the new season and the new performance space, located in the former Warner Grand Theater. Ahead of the premiere, PBS Wisconsin spoke with Masur about the inaugural performance in the new space, expanding on the program and his hopes of inspiring viewers.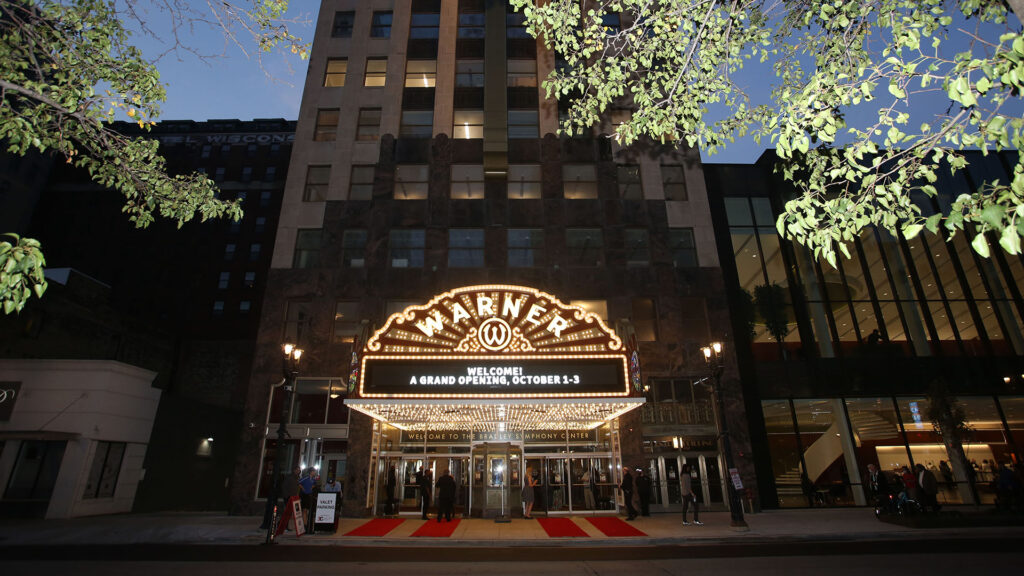 PBS Wisconsin: Explain to us the musical program that you have developed for this program.
Ken-David Masur: There was so much that went into this particular program because it didn't just stay the same program we originally planned for the opening of our new room, which was originally something that included a large choir and so on. Something that includes all the strengths that you normally have and want to deploy to celebrate the opening of such a beautiful place, a new concert hall that not only has great acoustics but also looks fantastic. The programming incorporated many thoughts.
"Overture" by Eric Nathan
We commissioned a work to open the room from American composer Eric Nathan, called "Opening". He came to see the room for inspiration to write something specific to the place and not just the occasion. The fact that he then gets to work and comes to see the space while it is being remodeled and built in the lobby and also gets to work during the pandemic of course has had implications for the nature at both from the idea of ​​commissioning to open a hall, inaugurate a space, but also where we come from and where we leave.
This piece has this idea of ​​connections, of connecting distances and having the orchestra not only on stage, but having individual players around the room for that reason. Whether you have this call and this response, this call and this echo, or just voices and thoughts that come from afar and connect through space because we want this space to be a place where people connect. both among themselves and with their own imaginations and their own history of where they came from. Many of these ideas that Eric Nathan is known to integrate into his thinking, his approach, he is very sensitive to the narration of each of his pieces and this is reflected a lot through this work, "Opening".
"Rhapsody in blue" by George Gershwin
We were eager to introduce Aaron Diehl, the pianist who is starting this artistic partnership with us this new season in the new venue, and how to fit in and have something as uniquely American as "Rhapsody in Blue". But on top of that, this piece stems from all of Gershwin's early 20th century philosophy and creates that modern orchestral experience as he sort of called it. He wanted to see what are the sensitive points of creating a work that brings together the world of jazz, the world of the orchestra, and how this seeks new avenues in American music. This is something that we would like this room to be a part of in the next century, essentially a hundred years later. We are approaching the centenary of "Rhapsody in Blue".
"The new world to come" by Duke Ellington
We added Duke Ellington with "New World A-Comin '" which comes out of the deep turmoil and strife of the backdrop of WWII as it was played in 1943. It's something a lot of people think of. 'between us can identify in terms of the crisis, in terms of what people are still going through, the kinds of challenges and hopes besides the pandemic, with what happened in particular in this country in terms social turmoil and economic challenges, etc. I think the duality of these two with Aaron Diehl was very important to us as a message, that we want hope not to die as the new world comes.
"Suite of the Firebird" by Igor Stravinsky
We ended with Stravinsky's Firebird program because, of course, Firebird is the story of this miracle, this miraculous bird that has magical powers to get us out of conflict, out of misery, and I think more symbolic is that all these individuals in the story of the firebird who tried to free the princesses, they were paralyzed by a monster, by an evil power and therefore the paralysis of those individuals who tried to free the people who 'they love is by a miracle melted into everyone still being alive and celebrating this life.
James B. Wilson's "Green Fuse"
I really wanted to incorporate a piece by this young British composer because we want to make sure that we discover and give voice to the people who need to discover and who need a platform to have a voice. "Green Fuse" by James B. Wilson is based on a poem by [Welsh poet Dylan Thomas] from the 1930s. This link between the 1930s and poetry and an unknown composer that really should be known, comes from the discovery during the pandemic. The pandemic – for me not to play – has served as a vehicle for me to go on a hunt for discovery, for talent that should be played by a large orchestra and maybe presented that way. The idea of ​​the 1930s is another theme this year. The original part of the hall was opened not only during the Great Depression, but during Prohibition in this country in 1931, and of course all of the Art Deco and all the images you see going in are associated with that time. So, the 30s is a theme running through what we will be highlighting later this year with the 30s Festival which will run from January to February. This kind of started this thread if you will.

PBS Wisconsin: What was it like for you and the orchestra to finally play live music after so long?
Masur: It was just joy and relief and I think for some it was pure joy and the release of pent-up hopes, pent-up anxieties. The great gift of being a musician is that whatever we go through, and not just a musician but those we may have played for in space at the time, whatever everyone else is going through at that time, you have peace if you surrender to your music, to be together and to connect through music – find a chord, find the same note, find the same pitch. And ride that sound wave that we haven't had for so long and certainly not in a way that could be shared.
We already knew that something would be different when we returned and that many of us will no longer take things for granted which we try not to do, but sometimes we all do it in different ways. What has been the most wonderful thing for me personally and something that I feel shared by many of my colleagues and collaborators is that we all thought we knew the reactions we would have and we were all deeply moved when we realized that we had no idea what it would feel like to us and that we would be so moved and touched and feel emotions that were dormant that we didn't have. In many ways, the things that happened to us as musicians were so amplified and loud, almost like we had heard or experienced music for the very first time as little kids going to their first gig. It was a huge gift.
PBS Wisconsin: What do you hope for the viewers who watch this program?
Masur: The hope is that what stands out is the joy and the need that we see to be together again for these performances and to make people feel that this is alive, that it's not just something that 'they're watching. A lot of people watch things at home, and sometimes we spend too much time on a screen looking at things we don't know anymore. Is it years ago or is it current? But what goes through the screen when people look at it is that we all need that live experience to connect, that the music is played in that live environment and that's what gives it that. energy and that's what gives it that extraordinary and unique vibe of all those opportunities to come together, to enter a new home, to understand your new home and how this new room instrument resonates with you and with people that are there, and that it would inspire people watching to seek out similar types of opportunities. Just being with people and celebrating life, which is what the music hopes to do.
With the folks watching at home, I personally really enjoyed the PBS shows even though I knew it was on screen, it's not live. But with the production of PBS and the kind of care, sensitivity and understanding of the whole team that came into the room and the conversations that led to the actual performance, I know there is such care to trying to bring that experience live to a screen and translate that experience onto a screen that feels like there. You can smell the electricity in the room, you can smell the smell and the feel of that space, and I think that's what PBS has always been able to capture. Can't wait to watch it with my own family for the first time.
Bradley Symphony Center Ken-David Masur Live from the Bradley Symphony Center: Performance by the Milwaukee Symphony Orchestra Milwaukee Milwaukee