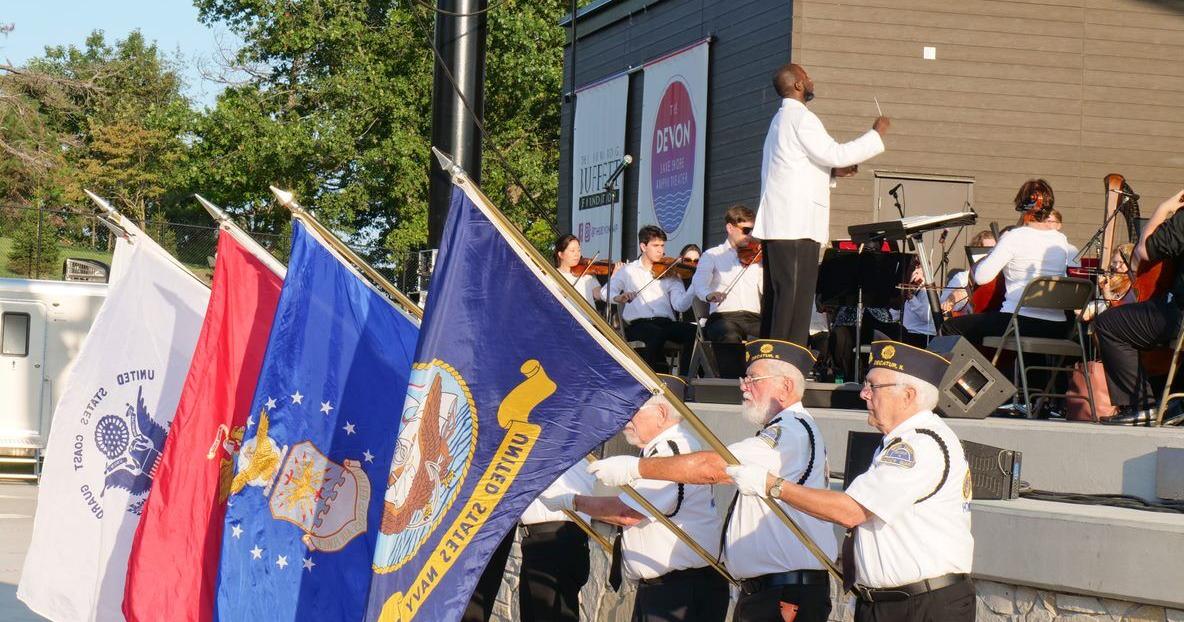 The Millikin-Decatur Symphony Orchestra prepares a pop concert for Labor Day | Music
DECATUR — The traditional last days of summer will end where the Millikin-Decatur Symphony Orchestra season begins.
"The Labor Day Pops Concert is the first concert of the year," said William McClain, conductor and director of MDSO.
Under the theme "Family, fun and fantastic music," the holiday concert will begin at 6 p.m. Monday at the Devon Lakeshore Amphitheater in Nelson Park.
"The program is designed to appeal to a broad audience," McClain said. "You don't have to be a music expert or an orchestra fan to enjoy it."
The show will include popular theme songs from films such as "Star Wars" and "Pirates of the Caribbean." Other elements of the program will include Tchaikovsky's finale of "1812 Overture," a tribute to the metropolitan cities of New York and Chicago, and the traditional Salute to the Armed Forces with the Macon County Honor Guard presenting the Flag of the nation.
"We take music from movies, theater and patriotic music to create a great fun program that everyone will enjoy," the conductor said.
The vacation program is suitable for families of all ages, according to McClain. The open lawn at the back of the hall will be left for children to play and dance while the orchestra performs.
Plans dropped for new Forsyth cinema
"One of my favorite things as a bandleader is to turn around and see little kids dancing to the music we're playing," McClain said. "These are our future musicians."
Last year's Labor Day pop concert was a comeback for the Community Symphony.
"It was the first time the orchestra could come together with a live audience," McClain said.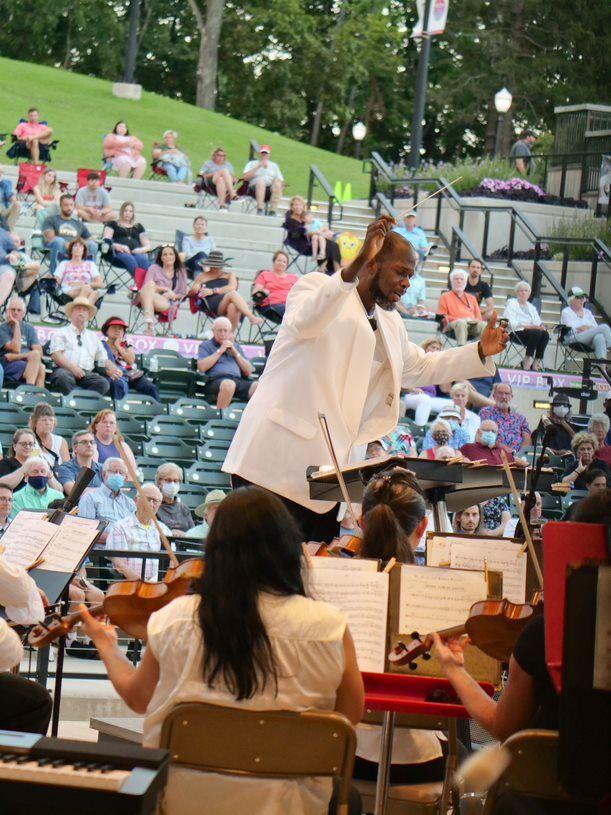 After nearly three years as director of the MDSO, McClain finally had the opportunity to settle down. In addition to being the conductor of the local orchestra, he is a professor at Millikin University.
"That year before, it was more about getting acclimated to a new state and getting used to a new job post-pandemic," he said. "This third year is the first time I can really focus on my teaching and my connection to the community."
29 Celebrities With Decatur Ties
29 Decatur Celebrities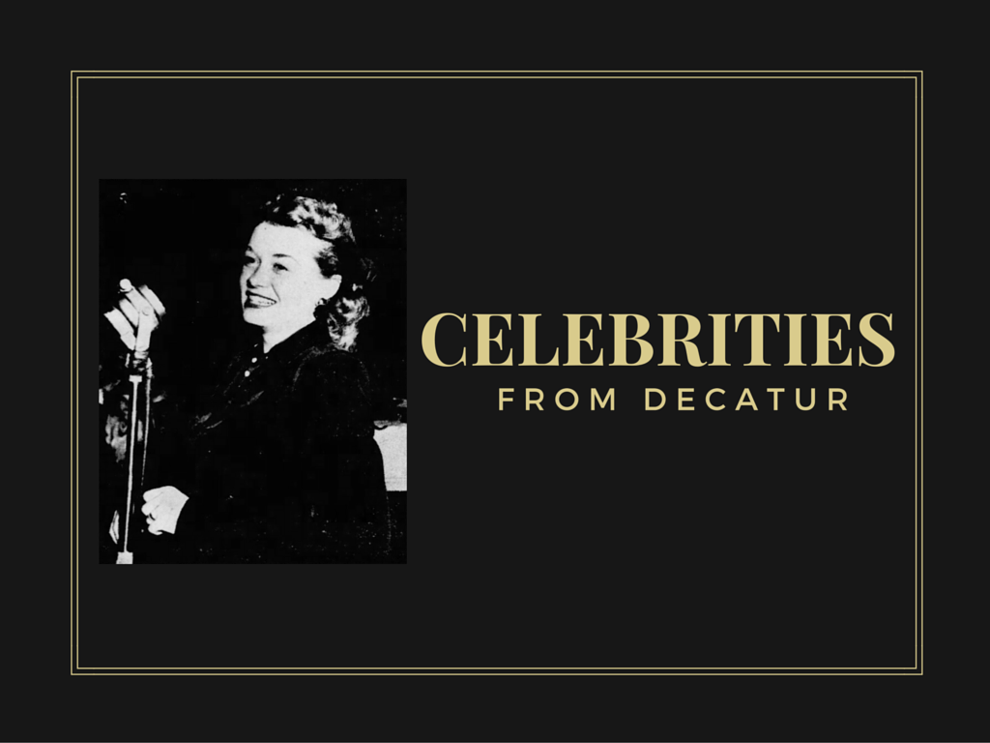 Gary Forrest
Gary Forrester, a New Zealand and Australian based musician, composer and poet who was touted as one of the major figures of the Australian music scene in the 1980s and 1990s, was born in Decatur and raised in the regions of Effingham, Quincy and Tuscola.
Jenny Lou Carson
Jenny Lou Carson, originally known as Lucille Overstake of the Three Little Maids, was born and raised in Decatur. She then wrote "You Two-Time Me One Time Too Often", which was the first country hit written by a woman. She was inducted into the Nashville Songwriters Association Hall of Fame in 1971.
june christy
June Christy, an American singer hailed as "one of the finest and most neglected singers of her time", was known for her work in the cool jazz genre. She was born in Springfield in 1925 and moved with her family to Decatur when she was 3 years old.
Brian Culbertson
Brian Culbertson, an American contemporary jazz/R&B/funk musician, has written and produced over 25 free-flowing contemporary #1 singles on the R&R, Gavin and Billboard Radio charts. He was born and raised in Decatur.
Howard WarrenBuffet
A graduate of Mount Zion High School, Howard Warren Buffett is currently a faculty member at Columbia University's School of International and Public Affairs and previously served as a policy adviser in the Executive Office of the President of the United States under President Barack. Barack Obama.
Steve Hunter
Steve Hunter, born and raised in Decatur, is an American guitarist best known for his collaborations with Lou Reed, Peter Gabriel, Bette Midler and Meat Loaf.
Marcia Morey
Decatur-born Marcia Morey is a former competitive breaststroke swimmer. She represented the United States at the 1976 Summer Olympics in Montreal, Quebec.
Richard Peck
Richard Peck is an American novelist who received the Newbery Medal in 2001 for his novel "A Year Down Yonder".
icon for rent
Icon for Hire, formed in 2007 in Decatur, is an American rock band that has had two Billboard albums.
Chuck Dressen
Chuck Dressen was a quarterback for the Decatur Staleys and had a long career in professional baseball, including as manager of the Brooklyn Dodgers from 1951 to 1953.
This This Frey
CeCe Frey is a pop singer from Mount Zion who finished sixth on Season 2 of "The X-Factor."
Charles Count Boles
Known as Black Bart, this English-born outlaw lived in Decatur in the 1860s before becoming one of the most notorious stagecoach robbers to operate in and around northern California and of southern Oregon in the 1870s and 1880s.
Homer "Boots" Randolph
Best known for his 1963 saxophone hit "Yakety Sax", "Boots" Randolph performed with Dink Welch's Kopy Kats in Decatur from 1948 to 1954.
Nan Martin
Nan Martin, born in Decatur, was an accomplished stage, film and television actress who made her Broadway debut in 1950.
Roe Skidmore
Roe Skidmore played in 1,300 minor league games and had one hit in his only appearance with the Chicago Cubs in 1970. He was born in Decatur and attended Eisenhower High School.
Loren Coleman
Cryptozoologist Loren Coleman has authored books on a number of topics, including cryptozoology. He grew up in Decatur and graduated from MacArthur High School.
Herbert DickensRyman
Herbert Dickens Ryman, who grew up in Decatur, was an artist and Disney Imagineer who drew the first illustrations of Walt Disney's vision for a theme park that eventually became Disneyland. His filmography includes art director of Fantasia and Dumbo.
Ron Reaco Lee
RonReaco Lee is a television and film actor best known for his roles as Tyreke Scott in "Sister, Sister" and Jamal Woodson in the BET romantic comedy "Let's Stay Together." He was born in Decatur.
Alison Krauss
Decatur-born musician Alison Krauss has sold over 12 million albums and won 27 Grammy Awards.
Jeff Innis
Born and raised in Decatur, Jeff Innis pitched for the New York Mets from 1987-1993.
David Joyner
David Joyner, best known for his role as Barney, was born in Decatur and graduated from MacArthur High School in 1981.
Stephane Ambroise
Decatur-born, Lovington-raised historian Stephen Ambrose was the best-selling author of books on Lewis and Clark and World War II.
Howard GrahamBuffet
Businessman and philanthropist Howard G. Buffett served as vice president and assistant to the president of Archer Daniels Midland from 1992 to 1995 and is the founder of the Howard G. Buffett Foundation. He currently resides in Decatur.
Kerri Randles
Most recently known for working on Clint Eastwood's "Changeling," Decatur-born Kerri Randles also opened the first-ever Hollywood Fringe Festival with her solo show "Can't You Hear Me Knockin?"
John Doe
Decatur-born musician-actor John Doe blazed the trail for alternative rock with his band X before branching out into film as "Great Balls of Fire!" and "Boogie Nights".
Bill Madlock
Eisenhower alumnus Bill "Mad Dog" Madlock, Jr. was a right-handed hitter who won four National League batting titles and is one of only three right-handed hitters to win multiple National League batting titles. National League since 1960.
Clarence McClendon
Decatur-born Bishop Clarence Earle McClendon is a gospel musician, pastor of Full Harvest International Church in Los Angeles, California, and director of the Harvest Fire Mega Mass Choir.
Freddy Kruger
Freddy Krueger, the world's #1 professional water ski jumper, was born and raised in Decatur.
James W. Loewen
James Loewen, a sociologist, historian, and author best known for his book "Lies My Teacher Told Me: Everything Your American History Textbook Got Wrong," was born in Decatur and graduated in 1960 from MacArthur High School as well as a national merit award. learned.
Contact Donnette Beckett at (217) 421-6983. Follow her on Twitter: @donnettebHR