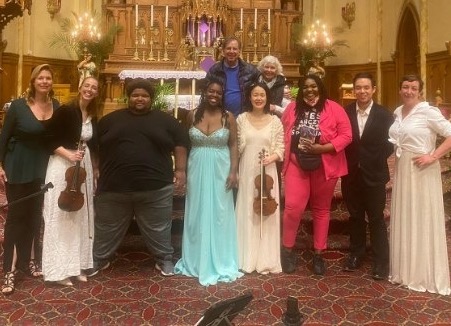 Student poetry inspires chamber orchestra performance
Weatherspoon won her first poetry contest in eighth grade. Not only did the recognition inspire them to continue poetry, but it also propelled them into the classroom.
"I was like, 'Wow, that's so cool,' and I wanted more of that feeling. So I decided it was time to go back to physical school," Weatherspoon said. applied to an independent school in Ohio [Hawken School], and I rode with a full turn. I was really happy and really bonded with the humanities teachers there.
Weatherspoon continued to work on their writing and, starting in sixth grade, made it his mission to write ten pages a day.
"I just had to really hone my craft, because I knew that's what I wanted to do, and I wanted to be good — like, I wanted to be really fine," they said.
In high school, when Weatherspoon became a member of the school's speech and debate team, they found new purpose in powerfully spoken and written words.
"[The team] took me all over the country to speak at colleges, and through speaking and delivering speeches, I gained a different affinity with words," Weatherspoon said. "It was still expressive, but less artistic and more analytical and more along the lines of advocacy."
Weatherspoon's world changed again when they became homeless at the start of the COVID-19 pandemic, but it was during those months of housing insecurity that they wrote and published their first collection of poetry. Has too many children.
"When I was younger, I had a lot of near-death experiences because of poverty and violence and the communities I grew up in," Weatherspoon said. "A lot of my early poetry collection was about inner city, underfunded living."
Today, Weatherspoon continues to write poetry – and is preparing to publish another book – in addition to being a musician in their band, Little Little Kids.
Weatherspoon encourages members of the Bowdoin community who wish to explore the art form of poetry to attend "Write Above It: Poetry Concert" at Kresge Auditorium with ten student poets, at 8:00 p.m. on Friday, April 22.
"The title is 'Write Above It' because I feel like a lot of writers start writing to transcend some difficulty they're having," Weatherspoon said. "I think the event is going to be really special."