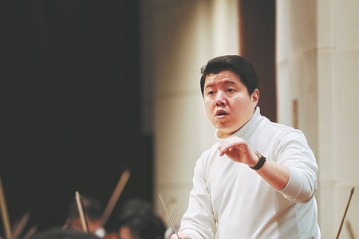 Ring of music and dance in 2022 at the Poly Theater in Beijing
The China Philharmonic Orchestra and the National Ballet of China will give a concert together at the Poly Theater in Beijing on Friday.
Entitled Music Meets Ballet: 2022 New Year's Concert, it will present a program highlighting the ballet, in particular the polonaise from the ballet Eugène Onegin, composed by Piotr Ilitch Tchaikovsky and choreographed by Xu Gang, and excerpts from Swan Lake also composed by Tchaikovsky and choreographed by Marius Petipa and Lev Ivanov. Pieces from the original Chinese ballet The Red Detachment of Women, premiered in 1964, which is the first and one of the most successful Chinese ballet productions, will also be performed.
A total of 28 ballet dancers from the National Ballet of China will participate in the concert.
"Classical music and ballet have an intimate relationship. They are in fact inseparable, like twins. Many great composers have written music for ballet, which have become classics," says conductor Huang Yi. , who will wield the baton during the concert.
Dance of Porcelain, a ballet piece choreographed by Feng Ying, president of the National Ballet of China, to the music of Tchaikovsky's Nutcracker Flower Waltz, "will bring a sense of joy to audiences in the New Year," said Huang.
In March 2011, the Chinese Philharmonic Orchestra and the National Ballet of China worked together, performing L'Arlésienne and Carmen, two classical ballet pieces by French dancer and choreographer Roland Petit to music composed by Georges Bizet.
"It was an unforgettable performance and excerpts from these two ballet pieces will be staged again during the concert, bringing the audience back to that night of 2011," said Li Nan, president of the orchestra.
Li notes that since December 31, 2000, the orchestra has developed a tradition of giving a concert on the last day of the year.
"This year, we will have ballet dancers on stage with musicians from the orchestra, who will combine movement and music to tell great stories," Li said.
He adds that at every New Year's concert, the orchestra performs new works and introduces new musicians to the audience. This year, pianist Yin Zhi will be invited to perform Andante Spianato Et Grande Polonaise Brillante in E flat major, Op 22 by Chopin.
The young pianist, who started playing at the age of 6, moved to Russia in 2002. She studied at the Tchaikovsky Conservatory in Moscow in 2005, where she obtained a master's degree in 2010. In 2018, she graduated his doctorate in musical arts. at Boston University, where she also worked as a teaching assistant in the piano department. Today, she teaches at the Beijing Central Music Conservatory.
This will be Yin's first time performing with the China Philharmonic Orchestra.