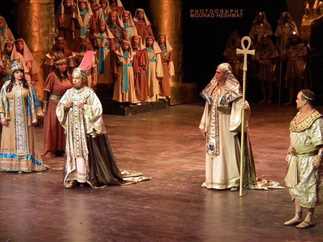 Opera Aida at the Fountain Theater of the Cairo Opera on September 27
The Cairo Opera Troupeunder the direction of artistic director Eman Mostafa, opens its new season with the world spectacle Opera Aida by Italian composer Verdi.
The show will take place with the participation of the Cairo Opera Ballet troupe under the direction of Armenia Kamel and accompanied by the Cairo Opera Orchestra, conducted by the Italian maestro David Crescenzi, and the Chorus of the Cairo Opera, formed and conducted by Anastasiya Shytsko, conducted by Hisham al-Tali, for four nights, from eight o'clock in the evening on Tuesday September 27th until the 30th of the same month at the Fountain Theatre.
Written by the great Giuseppe Verdi, Aida Opera is an opera in four acts that follows the story of two star-crossed lovers: Radames, a future commander in the Egyptian army, and Aida, the Ethiopian slave of Princess Amneris, the daughter of the King.
To complicate matters, as operas usually do, Princess Amneris is also in love with Radames.
The story intensifies when Aida turns out to be the daughter of the Ethiopian king, who then fights Radames in battle. Their love is tested as Aida is forced to choose between her love for Radames and her sense of duty.
Khedive Ismail had commissioned the Italian musician Verdi to write the opera Aida, which was performed at the opening ceremony of the Suez Canal in 1869. The opera premiered in Cairo in 1871 before a handful of members distinguished from society. He then performed at La Scala, Milan, Italy.