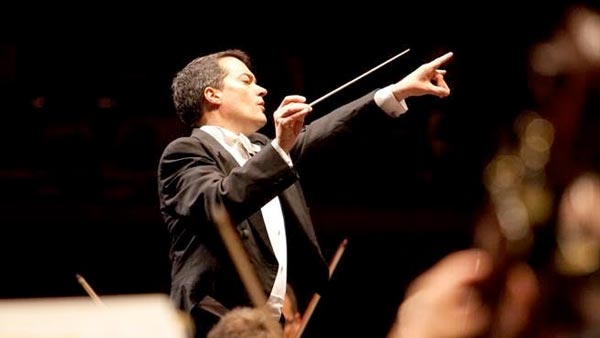 Jacques Lacombe conducts the last concerts as musical director of the New Jersey Symphony Orchestra
NEW | CHARACTERISTICS | OVERVIEW | EVENTS
originally published: 05/04/2016
(NEWARK, NJ) – The New Jersey Symphony Orchestra and Music Director Jacques Lacombe present the 2015-16 Classic Season Finale – Lacombe's final concerts as the Orchestra's 13th Music Director – from June 9-12 in Englewood, Red Bank and Newark. The concert includes Rachmaninoff's Third Piano Concerto with guest pianist Joyce Yang and Ravel Daphnis and Chloe Suite n ° 2 and The waltz. The program opens with Chris Rogerson's Night in the city – work that the NJSO first did at the first NJSO Edward T. Cone Composition Institute in 2014.
Performances will take place Thursday, June 9 at 7:30 p.m. at the bergenPAC in Englewood; Saturday June 11 at 8:00 p.m. at the Count Basie Theater in Red Bank and Sunday June 12 at 3:00 p.m. at the New Jersey Performing Arts Center in Newark.
Music Director Jacques Lacombe says: "These are my farewell concerts as Music Director, and I really wanted to showcase the Orchestra. We have presented French music throughout the season, and in this program we perform two works by one of my favorite composers, Maurice Ravel. Rachmaninoff's third piano concerto with Joyce Yang, a wonderful artist, seemed to fit the program perfectly.
"I also wanted to pay tribute to one of the things I did during my tenure with the NJSO – celebrate New Jersey musical culture through the New Jersey Roots Project, which led to the creation of the NJSO Edward T. Cone Composition Institute in Princeton I can't wait to perform Institute composer Chris Rogerson Night in the city again; he is already such an accomplished composer, and he knows how to make the orchestra sound good. There is a very young energy in her music, and yet she has a purpose, a purpose and a message that comes through clearly throughout the piece.
"This program feels like coming full circle and looking back on what we've done together on this trip, celebrating the quality of the Orchestra and all that is happening in New Jersey."
Advertise with New Jersey Stage for $ 50 to $ 100 per month, click here for more information
---
NJSO Accents includes a pre-concert conversation with Rogerson on Night in the city in the Carlton Lounge at the Count Basie Theater at 7:00 p.m. on June 11. A prelude show starting an hour before the June 12 concert at NJPAC features student musicians from the NJSO Academy.
Bank of America is sponsoring Lacombe's final appearance as the NJSO's Music Director at each of the Orchestra's six locations across the state. These concerts mark his last performances in Englewood, Red Bank and Newark; earlier this season he conducted his final programs as NYO musical director in Morristown, Princeton and New Brunswick.
Tickets start at $ 20 and are available to purchase online at www.njsymphony.org or by phone at 1.800.ALLEGRO (255.3476).
Advertise with New Jersey Stage for $ 50 to $ 100 per month, click here for more information
---