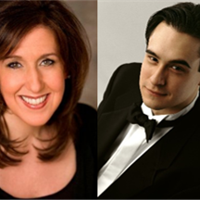 Greensboro Symphony Orchestra presents Beethoven's 9th | Music
Lyubov Petrova, soprano
Nancy Maultsby, mezzo
Rodrick Dixon, tenor
Marcus DeLoach, baritone
and the Greensboro Symphony Choirmaster
GREENSBORO, North Carolina (11/29/2021) – The second Masterworks concert of the Greensboro Symphony Orchestra (GSO) of the 2021-2022 season features the debut of the highly anticipated Greensboro Symphony Master Chorale. The performance includes immortal classics like the heroic of Copland Fanfare for the common man and Tchaikovsky's explosive Opening of 1812. The evening will end with Beethoven's glorious Ninth Symphony, just in time for its 251st birthday! The featured soloists are Lyubov Petrova, Nancy Maultsby, Roderick Dixon and Marcus DeLoach, as well as the first performance of the Greensboro Symphony Master Chorale.
Praised by Opera news as "a soprano of ravishing and changeable beauty, flamboyant high notes and a magnetic stage presence", Lyubov Petrova has won two major international competitions and is highly sought after in roles in halls around the world. Winner of the Martin E. Segal Prize, Nancy Maultsby has built an impressive international career in opera and orchestral collaborations, including a wide range of roles with the Netherlands Opera and the National Theater of Athens, for n to name a few. Hailed as "powerfully convincing" during his Opera Ireland (Dublin) debut, Marcus DeLoach has sung lead roles with American Opera Projects, Boston Lyric Opera, Cincinnati Opera, Seattle Opera, Utah Opera and many others. Roderick Dixon has a prolific recital and concert career, including collaborative concerts at the Kodak Theater with Barbra Streisand, Barry Manilow, Aretha Franklin and the Hollywood Bowl with Irish tenors.
Inspired by Henry Wallace's 1942 speech proclaiming the 20the Century to be "the century of the common man," Copland's Fanfare for the common man will serve as the opening to this thrilling concert. Closing the first half of the performance is a piece written in commemoration of Napoleon's defeat by Russia in 1812. Tchaikovsky's Opening of 1812 is instantly recognizable by millions of people around the world, from its tender opening to its explosive finale. The evening will end with one of the most beloved works ever written: Beethoven's 9e Symphony. The Symphony is a monument to the eternal brotherhood of the world and will present the grand premiere of the Greensboro Symphony Master Chorale under the direction of Jonathan Emmons and James Keith.
Honor to Beethoven 251st birthday in style with the Greensboro Symphony and Beethoven 9e!
About the Greensboro Symphony:
Founded in 1959, the Greensboro Symphony Orchestra strives to enrich the cultural life of Greensboro and the surrounding area with the highest quality music and music education programs. This non-profit organization impacts tens of thousands of lives each year by presenting concerts, special events and targeted educational opportunities to students from four counties in North Carolina – one of the largest sequels in music education programs among orchestras in the southeast.