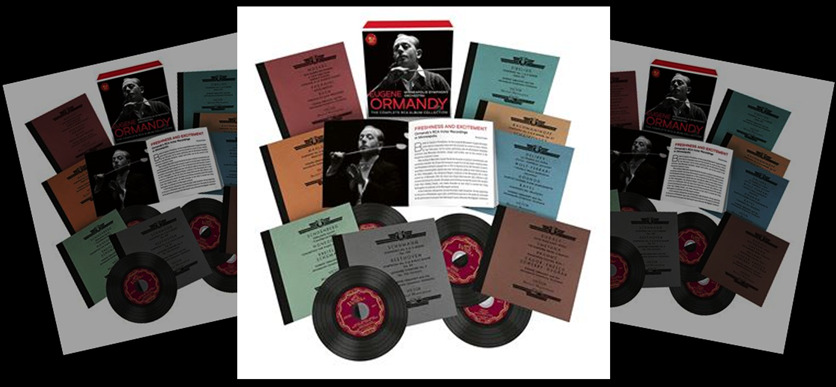 AVAILABLE NOW | "Eugene Ormandy conducts the Minneapolis Symphony Orchestra" Complete Album Collection
The complete collection of RCA albums from Minneapolis Symphony Orchestra and American-Hungarian conductor Eugene Ormandy includes, for the first time, 10 hours and 48 minutes of recordings on 11 CDs.
Ormandy was musical director of the Philadelphia Orchestra for 44 years, from 1936 to 1980. Previously, he led the Minneapolis Symphony between 1931 and 1936 – a period, albeit brief, that proved equally crucial in his career.
In 1931, Ormandy was a violinist in New York Capitol Theater for 10 years, and also later conducted the orchestra. His first real breakthrough in the United States came when the Philadelphia Orchestra asked him to replace his idol, the Italian conductor, Arturo Toscanini.
His next big performance opportunity was to step in on short notice to Henri Verbrugghenthe indisposed conductor of the Minneapolis Symphony Orchestra, whom Ormandy was later named to succeed.
Ormandy was further propelled to recognition when he again replaced Toscanini in Philadelphia, where a RCAVictor (a subsidiary label of Sony Classical), who was in the audience, invited Ormandy to record with them.
When contractual terms prevented the Philadelphia Orchestra from participating, Ormandy suggested that RCA transfer the project to the Minneapolis Symphony Orchestra, where Ormandy has established himself and the ensemble as one of the most admired from America.
For the first time, Sony Classical presents the complete Ormandy/Minneapolis discography in one collection. The set contains major symphonic works including Mahler's "Resurrection" Symphony, Rachmaninoff's Symphony No. 2, Sibelius' Symphony No. 1, Bruckner's Symphony No. 7 and those of Beethoven.
The set also includes world premieres of Kodály Harry Janos SuiteSchoenberg's version for string orchestra Verklärte Nacht and Honegger's Concertino for piano and orchestra.
Ormandy's only recording of Schumann's Fourth Symphony and his first recording of Beethoven's Fourth are included, as are Brahms' Hungarian Dances, Strauss Family Dances and Overtures, Eine Kleine Nachtmusikby Smetana bartered brideand arrangements of British folksongs by Percy Grainger.
American works by Roy Harris, Charles Tomlinson Griffes and John Alden Carpenter are also presented, as well as works by Zádor, Enescu, Sowerby, Dvořák, Kreisler, Délibes, Wolf-Ferrari, Gounod, Ravel, Zamachson, Tchaikovsky, Paganini and JS Bach.
To listen and buy the complete album, click on here.